One of the most significant decisions that can affect how people answer questions is whether the question is posed as an open-ended question, where respondents provide a response in their own words, or a closed-ended question, where they are asked to choose from a list of answer choices.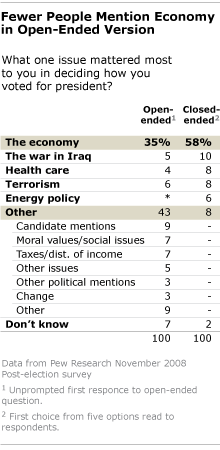 For example, in a poll conducted after the presidential election in 2008, people responded very differently to two versions of this question: "What one issue mattered most to you in deciding how you voted for president?" One was closed-ended and the other open-ended. In the closed-ended version, respondents were provided five options (and could volunteer an option not on the list).
When explicitly offered the economy as a response, more than half of respondents (58%) chose this answer; only 35% of those who responded to the open-ended version volunteered the economy. Moreover, among those asked the closed-ended version, fewer than one-in-ten (8%) provided a response other than the five they were read; by contrast fully 43% of those asked the open-ended version provided a response not listed in the closed-ended version of the question. All of the other issues were chosen at least slightly more often when explicitly offered in the closed-ended version than in the open-ended version. (Also see High Marks for the Campaign, a High Bar for Obama for more information).
Researchers will sometimes conduct a pilot study using open-ended questions to discover which answers are most common. They will then develop closed-ended questions that include the most common responses as answer choices. In this way, the questions may better reflect what the public is thinking or how they view a particular issue.
When asking closed-ended questions, the choice of options provided, how each option is described, the number of response options offered and the order in which options are read can all influence how people respond. One example of the impact of how categories are defined can be found in a Pew Research poll conducted in January 2002: when half of the sample was asked whether it was "more important for President Bush to focus on domestic policy or foreign policy," 52% chose domestic policy while only 34% said foreign policy. When the category "foreign policy" was narrowed to a specific aspect – "the war on terrorism" – far more people chose it; only 33% chose domestic policy while 52% chose the war on terrorism.
In most circumstances, the number of answer choices, should be kept to a relatively small number – just four or perhaps five at most – especially in telephone surveys. Psychological research indicates that people have a hard time keeping more than this number of choices in mind at one time. When the question is asking about an objective fact, such as the religious affiliation of the respondent, more categories can be used. For example, Pew Research's standard religion question includes 12 different categories, beginning with the most common affiliations (Protestant and Catholics). Most respondents have no trouble with this question because they can just wait until they hear their religious tradition read to respond.
In addition to the number and choice of response options offered, the order of answer categories can influence how people respond to closed-ended questions. Research suggests that in telephone surveys respondents more frequently choose items heard later in a list (a "recency effect").
Because of concerns about the effects of category order on responses to closed-ended questions, many sets of response options in the Pew Research Center's surveys are programmed to be randomized (when questions have two or more response options) to ensure that the options are not asked in the same order for each respondent. For instance, in the example discussed above about what issue mattered most in people's vote, the order of the five issues in the closed-ended version of the question was randomized so that no one issue appeared early or late in the list for all respondents. Randomization of response items does not eliminate order effects, but it does ensure that this type of bias is spread randomly.
Questions with ordinal response categories – those with an underlying order (e.g., excellent, good, only fair, poor OR very favorable, mostly favorable, mostly unfavorable, very unfavorable) – are generally not randomized because the order of the categories conveys important information to help respondents answer the question. Generally, these types of scales should be presented in order so respondents can easily place their responses along the continuum, but the order can be reversed for some respondents. For example, in one of the Pew Research Center's questions about abortion, half of the sample is asked whether abortion should be "legal in all cases, legal in most cases, illegal in most cases, illegal in all cases" while the other half of the sample is asked the same question with the response categories read in reverse order, starting with "illegal in all cases." Again, reversing the order does not eliminate the recency effect but distributes it randomly across the population.